First Regional Co-operative Credit Union Limited awarded bursaries to four (4) tertiary level students and scholarships to five (5) primary school students who sat the 2021 Primary Exit Profile (PEP) Examinations. The new recipients joined twenty other beneficiaries of First Regional's ongoing scholarship programme, which aims to provide financial assistance to members. Interviews for the bursaries were conducted on September 1-2, 2021, with a total of twenty-four (24) PEP applicants and fifteen (15) tertiary level applicants being shortlisted for interviews. The final interview scores from First Regional's Education Committee identified the top performing PEP scholars as Dajaunea Webber, Nathaniel Brown, Keinna Vassell, Phelique Campbell and Reneisha Parker. The top performing tertiary level students were Breanna Thompson, Zorian Clarke, Zania McNish and Collin Denny. The shortlisted applicants who did not receive bursaries or scholarships were also commended for their hard work with book grants valued at J$15,000.00 each. The bursary and scholarship awardees were invited to attend an Awards Ceremony held on September 9, 2021, at the Hibiscus Lodge Hotel and Restaurant in Ocho Rios, St. Ann. The Guest Speaker, Dr. Rushauy Watson owner of Mr. Rehab Medical and Rehabilitative Supplies, delivered a riveting and motivational presentation on 'The Path to Success.' He reminded the young scholars to always be courageous when facing obstacles that may arise as they strived to achieve their goals. Each PEP scholarship awardee received a sum of J$40,000.00 to be renewed annually for the first five years of their secondary education. At the tertiary level, each awardee was presented with a sum of J$158,750.00 to assist with school fee expenses for the upcoming semester. In total the sum of One Million Eight Hundred and Forty-Five Thousand Dollars ($1,845,000.00) was paid out to both the new and existing awardees of First Regional's scholarship programme.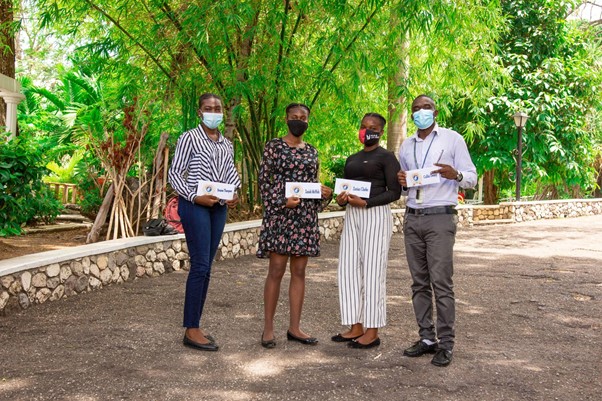 From left to right: Breanna Thompson, Zania McNish, Zorian Clarke, and Collin Denny, First Regional's 2021 Bursary Scholarship Recipients.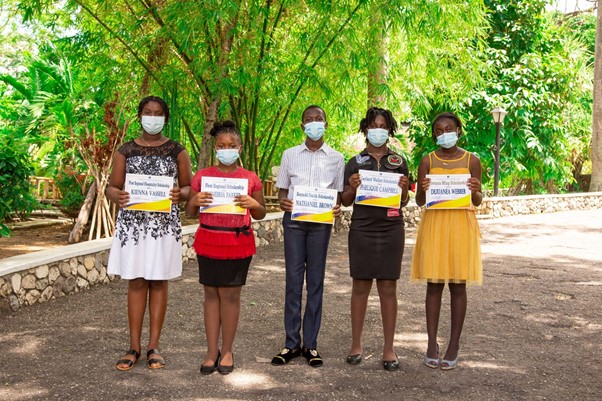 From left to right: Keinna Vassell, Reneisha Parker, Nathaniel Brown, Phelique Campbell and Dajaunea Webber, First Regional's 2021 PEP Scholarship Recipients.