Its Three-peat for First Regional
First Regional Co-operative Credit Union Limited has copped for the third consecutive year the coveted Jamaica Co-operative Credit Union League's Mega Credit Union of the Year award.
Mega Credit Unions are credit unions with assets base ranging from J$3.5 billion and above. There are eleven such credit unions in Jamaica and from that pool First Regional was crowned the top credit union for the 2017 Financial Year.
First Regional is a J$6 billion Credit Union!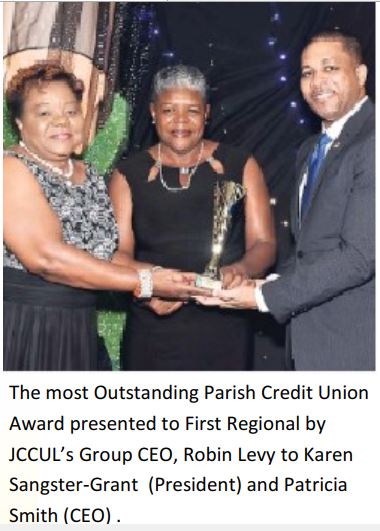 The award was presented at the Jamaica Co-operative Credit Union League's (JCCUL) Awards Banquet held to celebrate 2017 achievements of Jamaica's credit unions on May 18, 2018 at the Hilton Rose Hall Hotel in Montego Bay, St. James.
The Mega Credit Union of the Year award has been won by First Regional five times overall with the last three years being the most significant for the Credit Union. Karen Sangster-Grant , President of First Regional's Board of Directors graciously accepted the award, Patricia Smith CEO of First Regional was quick to attribute this success to the hard working staff of the organization she leads: "This means that we can all be proud to be employees of First Regional. It means that we are doing most things right and for that I commend you. Keep on giving great member service and be exemplary employees", were her comments to staff after receiving the award.
For a second year in a row the Credit Union also walked away with two additional awards. "We also earned the coveted title of "Most Outstanding Parish Credit Union" (again) as well as "Credit Union with the "Highest Return on Assets" (again) " were utterances from Patricia Smith as she barely could disguise her pleasure.
First Regional Credit Union Limited continues to serve approximately 57,000 members from twelve locations in St. Ann, St. Mary, Westmoreland, Hanover, Negril and the newest location in Liguanea (Across from the US Embassy) Kingston.